June 2023
Tal Campus Updates:
 JCT's women are remarkable!  They have consistently demonstrated their extraordinary abilities and dedication, and deserve nothing less than a revitalised, state-of-the-art campus in the heart of Jerusalem's university hub. 
We are thrilled to announce that Exca
vation has started! (Pictures to follow soon)
This is a critical step in the process to a new campus.  We are leveling the land and preparing the foundation for the building to commence in the beginning of 2024.  Its such an exciting time!
Our fundraising is progressing.  We have raised close to $80MM of the $120MM goal.  The construction plans including the three academic buildings the cafeteria and the 14-story dormitory tower:
Helmsley Center of Life and Health Sciences
Beren Center for Engineering
Friedman Center for Business and Management Studies
Tessler-Glina Cafeteria
Dormitory Tower - still unnamed!
We are finalizing plans for the Garden of Psalms, an awe-inspiring artwork by renowned artist Ofra Friedland. It will be the focal point of the new Tal Campus, captivating the public. These stunning windows will enhance Tal's beauty and draw attention to Jerusalem.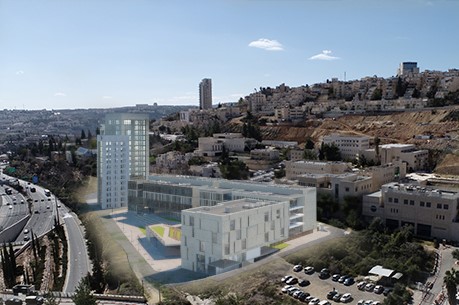 Judy & Morry Weiss               Chaim Sukenik                   Daniel Fogel
Honorary Chairs                     President                            Vice President
Tal Campaign                         JCT                                       JCT
Tal Campus for Women Steering Committee
Honorary Chairs 
Judy and Morry Weiss 
Prof. Chaim Sukenik, President JCT 
Co-chairs  
Helene Rothenberg 
Rori Cassirer 
Larry Krauss 
Judith Shamian 
Joel Strauss 
Moshe Sukenik 
Henry and Atta Zielenic 
Committee 
Esty Edell 
Jack Feintuch 
Brenda Feldman 
Motti Finkelstein 
Ira Greenstein 
Mark Hess 
Jerry Klasner 
David Leichner 
Robert S. Reichmann 
Phillip Reichmann 
Ashley Rogoff 
Pam and Ian Rosmarin 
Robbie Rothenberg 
Dov Rubin 
Jamie Sohacheski 
Debbie Tessler and Ed Glina 
Larry Zeifman 
Staff 
Daniel Fogel, Vice President JCT 
Rosalind Elbaum, Director of Development JCT
Suzy Lieberman, Assistant Director of Development JCT
Simmy Zieleniec, Canadian Friends of JCT